Rent a storage unit for 3 months and you can use our Moving Truck for FREE!*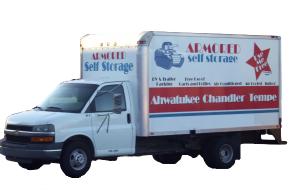 Rental includes Hand Truck, Appliance Dolly and Moving Pads FREE of charge!
Storage Unit Size
5'x10′
5'x15′
10'x10′
10'x15′ or Larger
Free rental is subject to the terms below
Free Rental Hours
2 Hours
3 Hours
3 Hours
4 Hours
Restrictions:
No mileage charge for the first 20 miles
Must Stay Within 30 Miles of Ahwatukee, Tempe, or Chandler
Time/Mileage in excess of the above will result in extra charges
Free use of hand truck, appliance dolly and moving pads
Your storage unit must be prepaid for at least 2 months
You must provide a valid Drivers License and Insurance Card
You pay for fuel – Return the truck with full tank and receipt
$50 refundable deposit required
*Restrictions apply.